EVENTS
The 6th Annual
OLD TIME HORSE FARMERS GATHERING
Come relive and enjoy the past, when the mule was king and the horse was in style. Events such as this educational living history demonstration help to teach our children about the past, as well as bring back the good old days of our grandpas. Experience farming and farm life before the tractor.

Elizabeth Ringus, of Barnwell, SC demonstrates the art of pottery making with a kick wheel.

Sept. 28 & 29 2001
9:00am-5:00pm

Blackville, SC


Need directions?


Apple Pressing gives children a chance to discover where apple juice comes from.

* PLOWING

PARADE OF HORSES

* HAY MOWING
* DISCING
* HAY RAKING
* HARROWING
* HAY BALING
*CORN BINDING
* MULTIPLE HITCHES
AND MUCH MORE DRAFT HORSE AND MULE FARMING
THERE WILL ALSO BE:

Larry Kronman of Cottageville, SC gives a plowing lesson with "Jake" his mule.

COTTON PICKING AND GINNING
WAGON RIDES
CANE SQUEEZING
CHILDREN'S BARNYARD
SWEET POTATO DIGGING
SHEEP SHEARING
CORN PICKING, SHELLING,
WOOL SPINNING
CRACKING AND A GRIST MILL
COW MILKING
BASKET WEAVING
BUTTER CHURNING
AND OLD TIME CRAFTS
ANTIQUE VENDORS
EQUIPMENT DISPLAY
OPEN AIR MUSEUM
HIT & MISS ENGINES
BLACKSMITH
ENTERTAINMENT
LUNCH STAND PROVIDED BY THE CALVARY FELLOWSHIP MENNONITE SCHOOL
ALONG WITH OTHER GOOD OLD COUNTRY FOODS
ADULTS $3 ---- STUDENTS $2 ---- UNDER THREE FREE
PROCEEDS GO TO VARIOUS NON-PROFIT ORGANIZATIONS, TO EXPAND THE EDUCATION OF OUR YOUTH, AND TO IMPROVE NEXT YEARS EVENT
For information contact:
Cindy or Tommy Flowers
2525 Ashleigh Rd., Blackville, SC 29817
803-259-3350 Night or 803-259-1981 Day
or


NO ALCOHOLIC BEVERAGES PERMITTED ON THE GROUNDS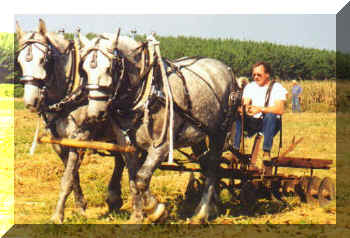 David Snodgrass of Johnson, SC with a team of gray Percherons pulling a single disc. 1998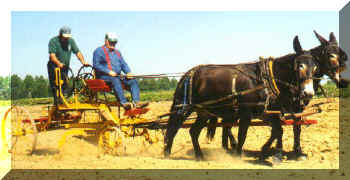 Dwayne Wetzel drives the mules, while Gene Knowlton operates the road scrape. This was a demonstration of the way dirt roads were kept smooth. 1998

THE OLD TIME HORSE FARMERS GATHERING --2000
WAS SPONSORED BY THE FOLLOWING:
Financial Contributions
TC CABINETS -- BLACKVILLE, SC
SOUTH CAROLINA DRAFT HORSE ASSOCIATION (SCDHA)
BLACKVILLE CIVIC CLUB
EDISTO ELECTRIC CO-OP
PALMETTO FARM CREDIT
NATIONAL BEVERAGE SCREEN PRINTERS, INC.
HOLLAND FARMS A DIVISION HOLLAND ATLANTIC
SOUTHERN STATES
BARNWELL CO. SOIL AND WATER
TOBY CREEK FARM
QUIMBY JOWERS
with Major Contributions from
"Mountain Metal" provided by Mid Carolina Builders-Camden, SC
Lumber provided by Collum Lumber-Allendale, SC
Lumber provided by Coastal Lumber-Denmark, SC
Pepsi Cola, Inc.
Farm & Crop Materials provided by
Blackville Farm & Garden--Blackville, SC
Growers Choice-- Denmark, SC
Collins Fertilizer--Blackville, SC
Demonstrators Sponsored by:
Nancy Basket sponsored by The Barnwell Co. Arts Council
WITH SPECIAL THANKS TO:
ASHLEIGH PLACE for their assistance in demonstrations

LODGING AND PLACES OF INTEREST WHILE YOU ARE IN BLACKVILLE, SC
| | | |
| --- | --- | --- |
| DAYS INN | 17747 DUNBARTON, | BARNWELL, SC (803)541-5000 |
| VILLA MOTOR INN | 950 CHURCH ST | WILLISTON, SC (803)266-7001 |
| WINTON INN | 8273 Marlboro--Hwy #3 | BARNWELL, SC (803)259-7181 |
| BARNWELL STATE PARK CABINS & CAMPING | HWY # 3, SOUTH OF BLACKVILLE | BLACKVILLE, SC (803)284-2212 |
| LITTLE RED BARN | POTTERY, ANTIQUES, ARTS & CRAFTS | BARNWELL, SC (803) 541-7900 |
| JIM HARRISON ART GALLERY | ORIGINAL RURAL ART | DENMARK, SC |
| PARROTTS ON LARTIGUE | ANTIQUES | BLACKVILLE, SC |
| MILLERS BREAD BASKET MENNONITE RESTAURANT | PENNSYLVANIA DUTCH COOKING, ANTIQUES | MAIN ST, BLACKVILLE, SC 803-284-3117 |
| HEALING SPRINGS | Natural flowing springs that has the legend of waters that heal | Just off of Hwy #3 -- 3 miles North of Blackville |

OTHER FAVORITE UPCOMING EVENTS FOR 2001

Back to the Barn (top)